Skip to content
FREE SHIPPING & RETURNS FOR LOYALTY MEMBERS
WIN FREE SHOES FOR A YEAR!!

808080

SCORE A FREE BAG With Code: BAGGED

WHEN YOU SPEND $150 OR MORE ON FULL PRICE* Shop Now

CHECK OUT OUR LATEST!

MENS NEW ARRIVALS Shop Now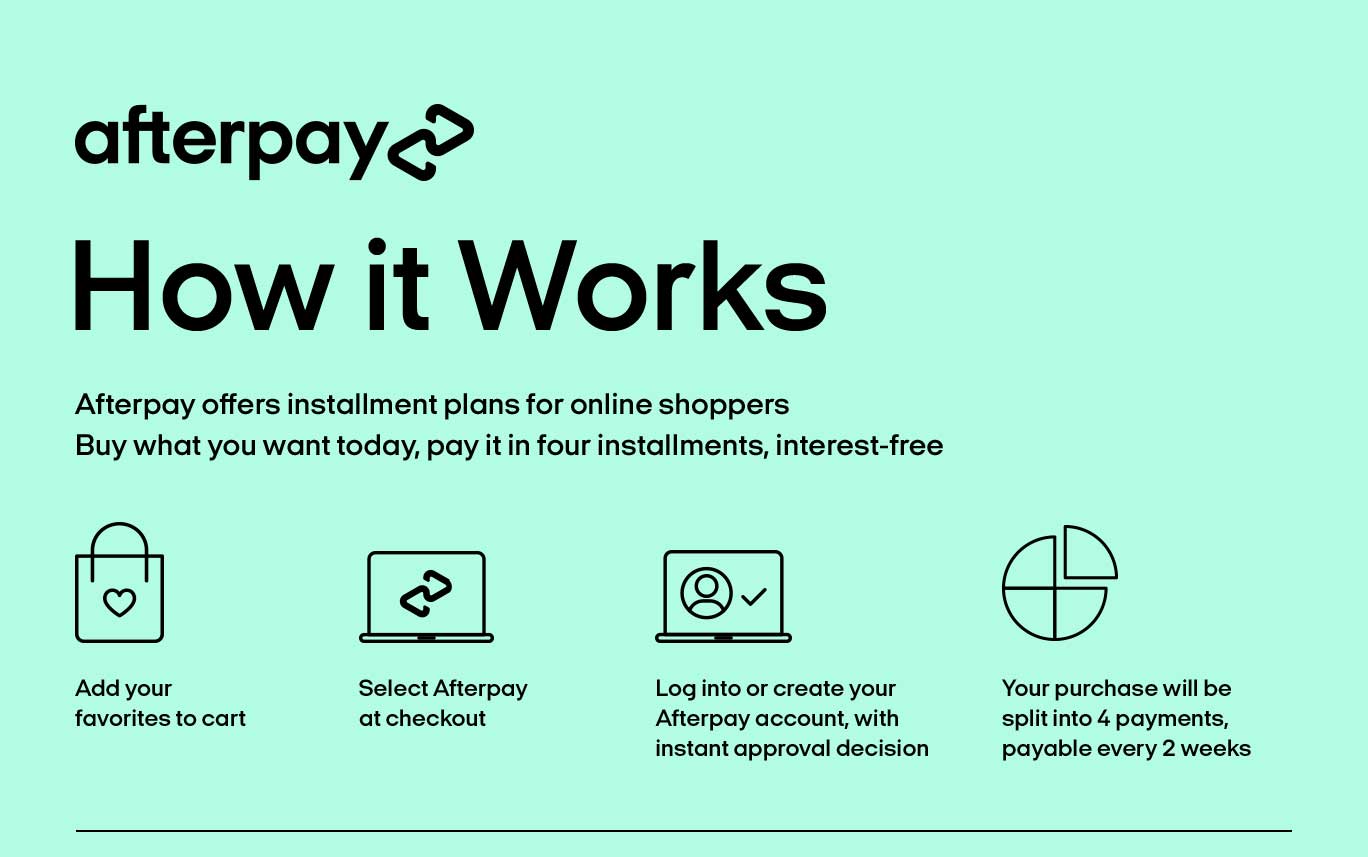 All you need to apply is to have a debit or credit card, to be over 18 years of age, and to be a resident of Australia.
Late fees and additional eligibility criteria apply. The first payment may be due at the time of purchase. For complete terms visit afterpay.com/en-AU/terms
FAQs
What is Afterpay?
Afterpay is a service that allows us to offer our customers the ability to make purchases now and pay for them in four payments made every two weeks without any interest.
How do I use Afterpay?
Just shop dcshoes.com.au and check out as usual. At checkout, choose Afterpay as your payment method. First-time customers will need to register with Afterpay and provide payment details. Returning customers simply log in to make their purchase. It's that easy. Please note that all items in your shopping bag must be eligible for payment with Afterpay, and the total amount due must be between $50 and $2,000.
Where can I use Afterpay?
Installments by Afterpay can only be applied to purchases made on
dcshoes.com.au
Can I use Afterpay if I'm an international customer?
Afterpay is only offered to our customers who have an Australian billing address, Australian shipping address, a Australian Visa or Mastercard (credit or debit card), and an Australian mobile phone number. Customers with international billing addresses, shipping addresses, and/or phone numbers will not be able to set up an account with Afterpay.
How does the Afterpay payment schedule work?
All Afterpay customers are required to make their first payment at the time of purchase. The remaining three payments are then charged automatically to your selected payment method every two weeks. If you would like to make additional unscheduled payments before they are due, you can log into Afterpay to make your payments early. Afterpay will then adjust the amount owed accordingly.
What if I can't pay an Afterpay installment?
If funds are not available or you otherwise do not make your payment when it is due, late fees may apply.
Click
here
for complete terms.
When will my items be delivered if I use Afterpay?
Afterpay orders are delivered as per our standard shipping timeframe after you complete your order online.
Visit our shipping page for more information.
Is there a limit to how much I can spend on a single transaction?
Yes, your total amount due must be between $35 and $2,000 to use Afterpay installments on dcshoes.com.au
What products are not eligible for purchase using Installments by Afterpay?
Afterpay is not available for gift card purchases. If you are purchasing gift cards along with Afterpay-eligible products, you will need to place two separate orders.
How do I return an item purchased using Installments by Afterpay?
You can return your Afterpay purchase by mail or by contacting customer service
Here
. Please check that your return
or exchange meets our return policy. Afterpay will be notified of your return and will process the appropriate refunds. Please do not
return your purchase to Afterpay. If you believe there is fault or concern with your Afterpay purchase payment, please contact Afterpay
customer support at info@afterpay.com.
Where can I find out more about Afterpay?

30% OFF YOUR FIRST ITEM*
Join the club for the latest news and access to DC Shoes exclusives.
(*) Offer valid online for new members - Full conditions are available in welcome email
*Enter your email address to get the latest DC Shoes news and exclusive offers through email and direct mail. 30% discount excludes gift cards, e-gift cards. Discount taken off the FIRST ITEM added to the cart excluding any non-eligible styles. Code is valid for online use only and is redeemable once per user. Promo code must be entered at checkout. Valid in Australia only. These offer terms may be withdrawn or altered at any time and cannot be combined with any other discount, offer or promotion. You can unsubscribe at any time by clicking on the unsubscribe link at the bottom of our email or by contacting us.
Customer Service
Do you have something you'd like to share with us, or a question that calls for our attention? Call or chat with one of our representatives.

1800 090 402
9:00am – 5:00pm AEST Monday – Friday

*Closed Weekends and all National / State / Region Public Holidays
FAQ
Get immediate answers to our most frequently asked questions.